The moment I noticed a girl standing ahead of me in line at a bakery, decked out in skull print and sporting an intricate skeletal bracelet/ring contraption, I knew I had to track one down for myself and build a shoot around it.
The five-ring skeletal bracelet that caught my eye, as well as a flower headband, both come from Hot Topic. And I know, to some of you the name of that store makes you groan or roll you eyes, but whatever, I'm of the mindset that it's about how you wear an item, not where you get it. I've long decided to stop being "too cool" or "too old" for the store, considering what a solid, affordable selection they carry of many of my go-to brands (i.e. Tripp NYC, Iron Fist, Hell Bunny).
My newest wig comes from Gothic Lolita Wigs, and it is hands-down one of the most beautiful and versatile wigs I've ever purchased. If I could comfortably live in it (or y'know, get my own hair to do the same), I would.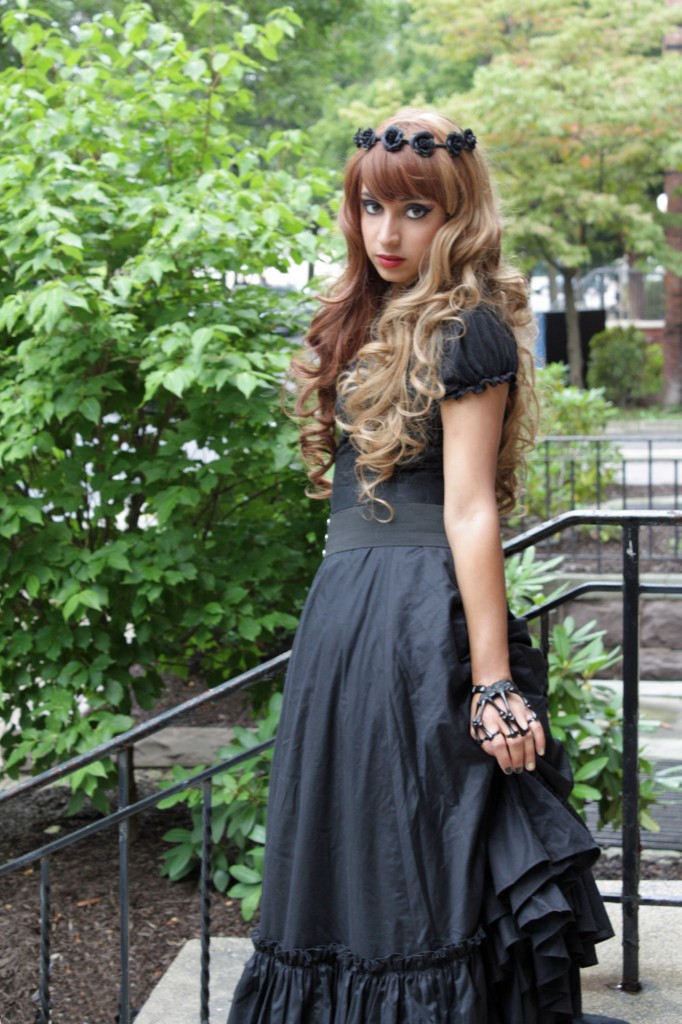 The bustier top comes from Forever 21 and the wonderfully grand skirt came on extended loan from an awesome friend (thanks, Nicole), who purchased it from Dracula Clothing. The lipstick is Glamour 101 from Lime Crime, paired with Estee Lauder Double Wear Liquid Liner and Wet & Wild eyeshadow.
Feel free to share your feedback on my latest photo set. And Hot Topic–love it, hate it, or somewhere in between?