Meet Dani Bathory: alternative model, writer, music composer, and hip hop artist. You might know Dani from her previous work with the death metal band, The Funeral Pyre, or else maybe you saw her recently featured on MTV's Fine Ink series, or as Inked Magazine's Inked Girl of the Day. While certain aspects of Dani's career are still in the early stages, a lot of things came together for her this year. She released her first single "Your Favorite Bitch," became a music columnist for Tattoo Hodge Podge, and you can spot her as the star of this year's Aggrolite's video, "Complicated Girl." And, yknow, she also fits a day job in there somewhere…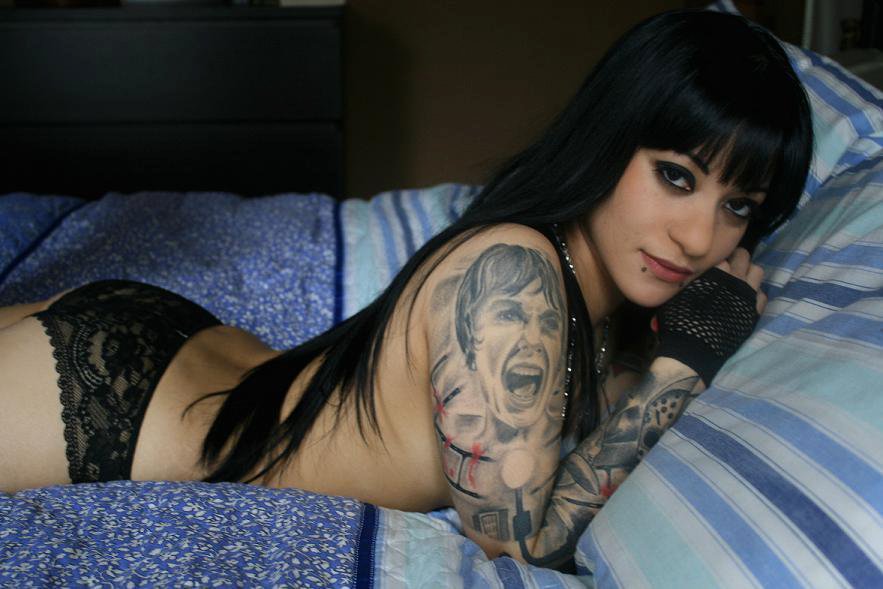 FV: You told me that your first modeling gig was only about eight months ago, for Tattoo Hodge Podge. When you started out, was modeling something that came naturally to you, or did it take a while to build up a level of comfort?
DB: It did take a little while to get comfortable in front of the camera because that is when you feel most vulnerable. My coworker at the time had been modeling for years and he told me the most important thing to do was just relax…and all the photographers I worked with kept telling me I was a natural, so that definitely gave me a boost of confidence.
 FV: Did your past experiences performing with a band prepare you at all for modeling, or would you say the two experiences are entirely different from one another?
DB: There are definitely some similarities. All the attention is on you, and you are expected to perform well. The difference with modeling is that the setting is very intimate and personal. While playing a show, I could feed off the energy from the crowd or from my band members. But when I'm doing a photoshoot, I have sole responsibility to keep the energy level high otherwise the photographer won't be into it. And lets face it…no one wants to shoot a boring broad.
 FV: You said that Lady Gaga is your fashion icon. Tell me a little bit about your love of Gaga.
DB: That woman does not give a fuck. She wears whatever the hell she feels like wearing that day, and doesn't care if you like it or not, no matter how outrageous or ridiculous the outfit looks. She is totally fearless with what she wears, and every single detail of every outfit is carefully thought out. I'm totally into that because I'm the same way. I had the pleasure of meeting her in person, and I have to give mad respect because she wore heels that came up to my knees. Now thats talent.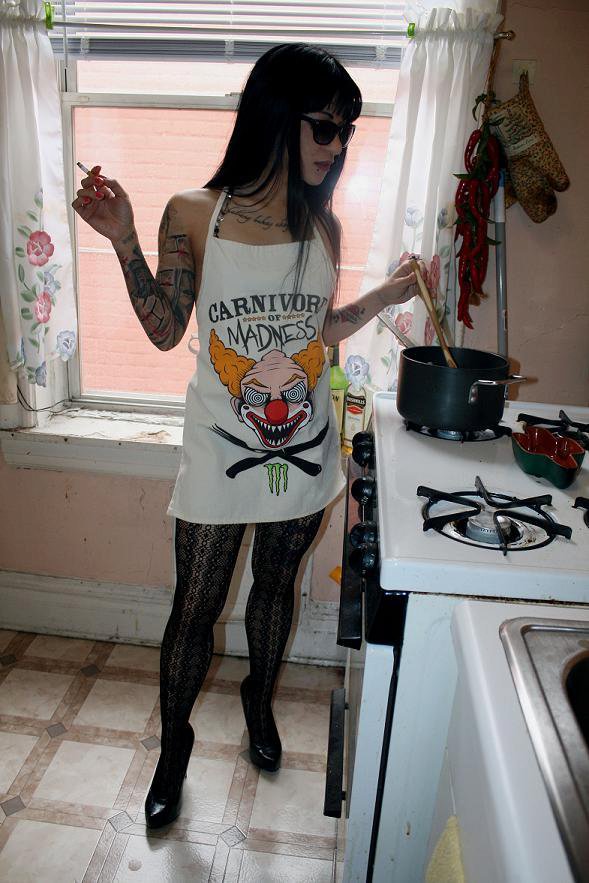 FV: How do you define your personal style?
DB: Haha thats a tough one because my style is all over the place. It really depends on how I feel that day. I might wear ripped holey jeans, a Slayer shirt and Vans one day….then a pink sundress and sandals the next. I'll admit I could spend hours picking out an outfit. You just never know who you'll meet that day and first impressions are important.
 
FV: You said that you have two music careers right now. What kind of music background do you have?
DB: All kinds. I started piano lessons at a very young age, so I played my Beethoven and Mozart cassette tapes everyday until they broke. My dad would always play gangsta rap when I was young too..that definitely influenced me alot. I started to learn how to play several instruments throughout my teen years so I appreciated all types of music from punk to country to techno. I was kindve like a music whore, I had to bounce around because I couldnt be happy with only one style.
 
FV: Tell me a bit more about the movie scoring. What horror movies have you scored and how did you get involved with that?
DB: None yet unfortunately. I've had a couple offers in the past so right now I'm working on recording a demo. I grew up watching horror movies and I'm completely obsessed with them, so naturally everything I write is dark and heavy. It was great playing for The Funeral Pyre because most of the songs were in minor chords and I wrote all my own parts. Everytime I would watch a horror movie and hear that melody that made my skin crawl I thought "Damn. I totally could've wrote that but ten times better." For years I thought that this type of career was totally out of reach considering I dont have a college degree since I toured with the band right after high school. But you dont need a fucking degree to write good music.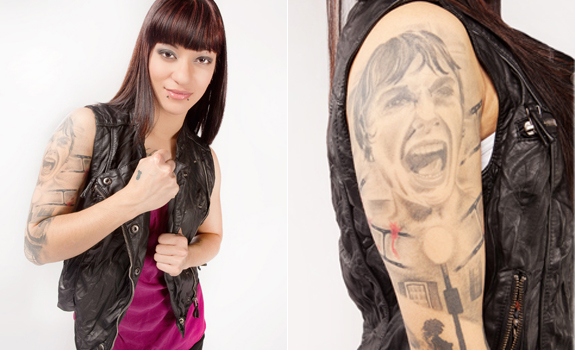 FV: Out of your various endeavors, what takes up the most time and which one means the most to you?
DB: Trying to pay my rent takes up the most time. There's just not enough time in the day for all the things I want to do, and working a "day job" definitely puts a huge dent in that. I'd much rather spend all day and night writing music. I could spend 10 straight hours writing music….that shit is better than sex.
 
FV: Since you live in NY, there are a lot of opportunities, but obviously also a lot of competition. What would you say are the pros and cons of being an artist and performer in a large city?
DB: I'm definitely not worried about competition. If someone doesn't like me, they can just kindly fuck off. Living in New York City is great because I'm constantly surrounded by other people who are creative and passionate about their art. The only downfall is that it's expensive to live here and this city can eat you alive. So if I can make it here I know I can make it anywhere.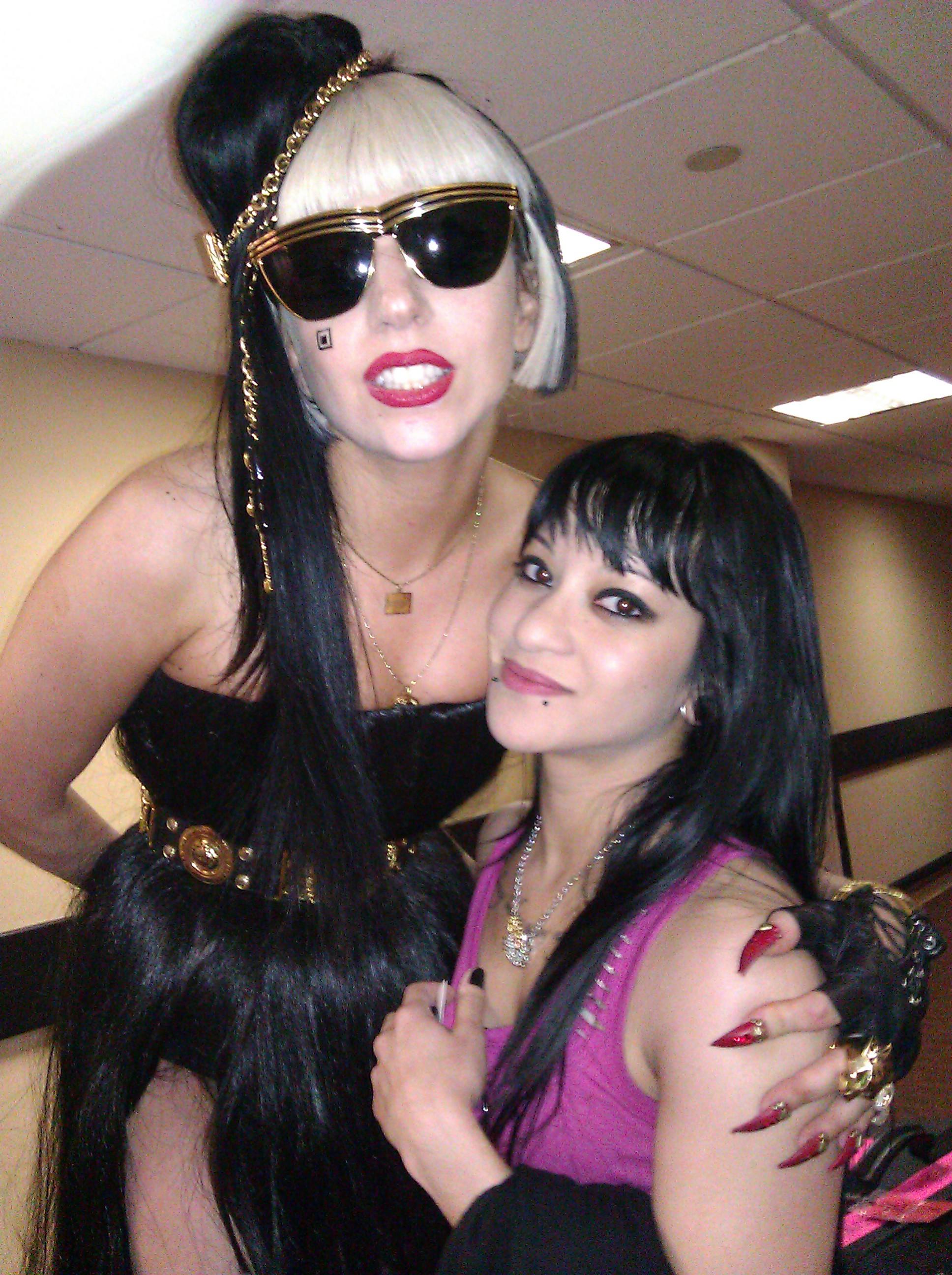 FV: What future projects do you currently have planned or in the works?
DB: I have a few collaborations planned out with some friends that I knew from touring days that are interested in writing more mainstream music. Life is a party, why not write the soundtrack? I also plan on writing and recording a country album.
 
Want to know/see/learn more about Dani Bathory? Go to: www.facebook.com/DaniBathory
Photo Credits: Photo 1 & 2 – Britt Nihil Photography/Photo 3 – MTV Fine Ink, Circe Baumgarter Photography