A number of months ago I introduced you to Lady Noctis, the petite alt-model and visual artist from the U.K. who' s often found in Bizarre Magazine and has modeled for quite a few dark fashion and fetish clothing companies, such as Jane Doe Latex and Artifice Clothing. Recently I got a chance to know Lady Noctis a little better, and she  told me about early interest in fetish clothing, her inspirations, and the challenges she faces due to her height (she's 4'11").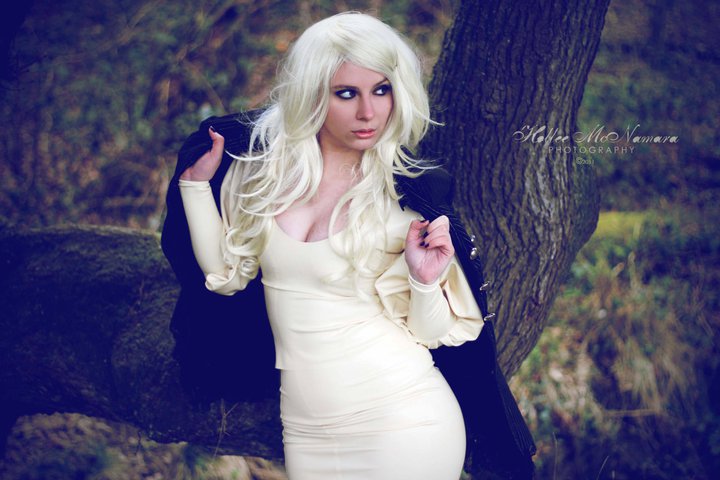 I read that in your teens you became interested in waist training and fetish clothing. Tell me a bit about your teen years and growing up…did you have access to subcultures or communities that shared your interests?
My first taste of corsetry and latex was introduced to me when I was an adolescent. It was apparent within all art forms and movies that I love and adore; the aesthetics of them and the way they transformed the human body as well as their personality just fascinated me. When I was about 16 I purchased my first waist training corset, which I saved up for for quite some time. The instant I put it on, I felt a change within myself; not only within my figure but in the way I held myself. I could not afford any latex until I was 19 and with that I bought myself a custom-made Harley Quinn costume (Catsuit and Headpiece). There is not that much of a fetish scene in Wales so I never got any idea of it until 20. This was from discovering the Torture Garden, as well as some smaller clubs that seemed more suited to my attire… 
Describe what modeling is to you. Is it an occupation, a form of artistic expression, acting out a role, etc?
For me it's a form of artistic expression, I view the end result by myself as a model and the photographer as creating an illustration so to speak just using a different media to create.
What is your personal style like when you're not in front of the camera?
My personal style is not that far off the Victorian-esque clothing that are seen in my shoots, which is actually all my own wardrobe. I tend to dress in a more toned-down version of this style, along with Steampunk. Though, some days I can just be found in band t-shirts, or batman t-shirts, with a skirt/shorts, tights and boots. It really depends on my mood for the day, though the majority of the time I can be found wearing my signature panda hat.
Imagine your dream modeling shoot. Where's the location, what are you wearing, who's the photographer, and who are you modeling along with?
Now this is a really tough question cause there are so many creative I would love to work with. Currently though, the top three photographers I would like to work with are Julian Kilsby, Switch Photography and Robert Alvarado. The location would have to be something derelict, Victorian-inspired or Miles Murder Studios, and I would like to be wearing either something by Eustratia or Violaceous Latex. Fellow models I would love to model alongside would be Kato, Mosh, Ophelia Overdose, and Ulorin Vex. I adore all these creatives and their works, so if I ever got to work with any of them it would be an honour as well as being an incredible experience.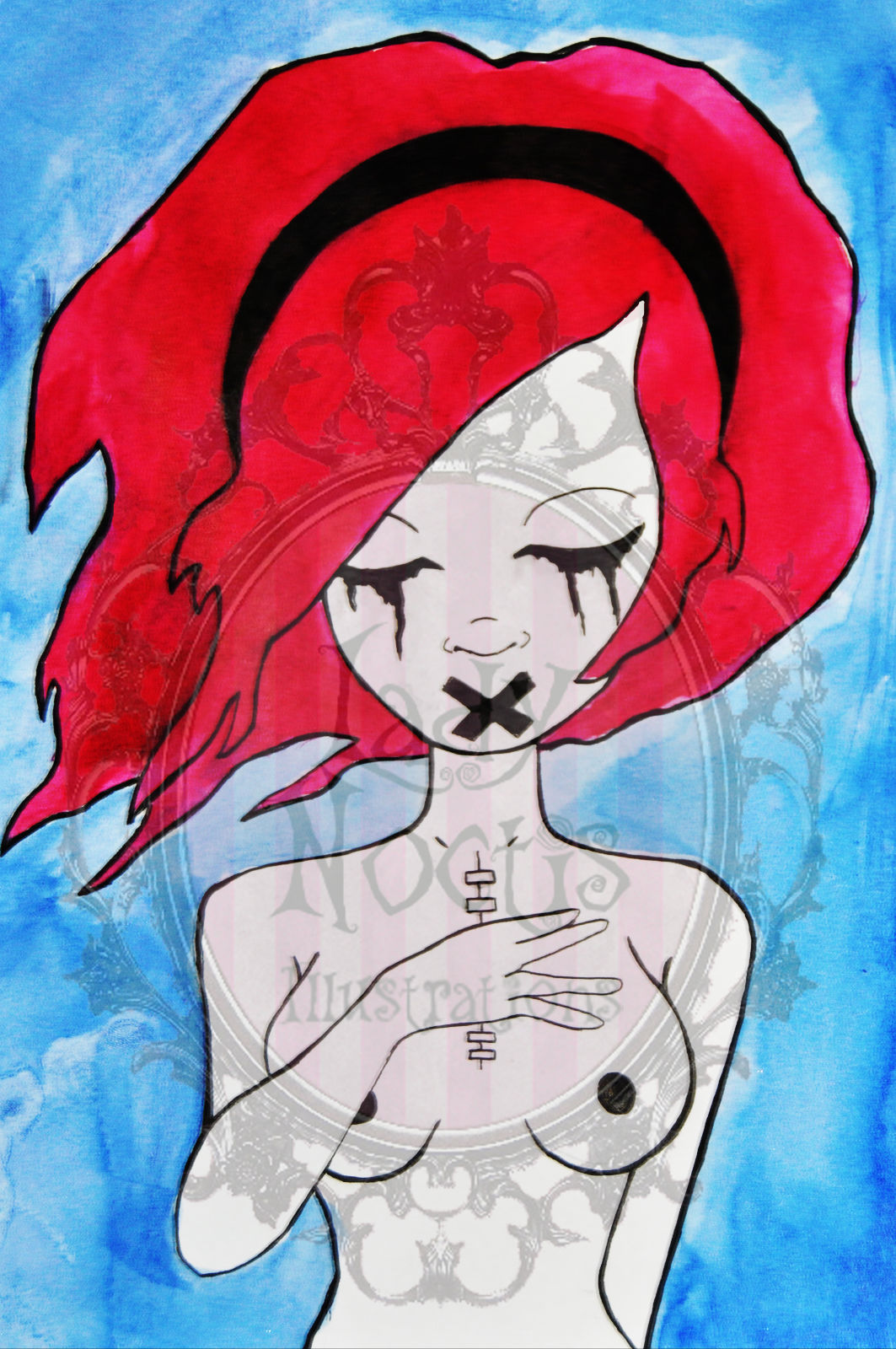 What inspires you across the board—in terms of both modeling and illustration.
I am highly inspired by the Victorian era, the emotions of one's individual state, dark romanticism and all things timeless.
Has your height caused any obstacles for you in your modeling career?
In some cases, yes it has. There are a lot of designers I would love to work with but I am sadly far too short. I hate it when I see a casting posted for something I would love to do and then I see the height requirements and then feel that excitement for the casting deplete as I realise I will not be suitable for the role. I would seriously love to partake in an alternative fashion show, especially the ones at Torture Garden, but most designers require someone much taller than I. I understand the reasons for the height restraints, but just wish one day I could be given the chance. Even with all that in mind, though, I still just pick myself up and keep trying. There is nothing I can do about my height apart from working with what I have got and showing my creative drive. What I lack in height I make up for in creativity.
Your modeling and your artwork seem very closely linked—can you tell me a bit about the story you're trying to tell, or what you'd ultimately like people to take from your work?
As mentioned previously, both my art and modeling art inspired by similar elements, and I do not see this ever changing, for I have forever been inspired by the things I like to portray within my works. I have always been an artist of contradictions with a bright palette and dark subject matters. I would like the audience to take what they interpret from each piece. My recent series for my book "Unspoken" is about emotions and how one deals with them, even when things seem bright and colourful on the outside we never know what is truly going on inside. It's about someone putting on a brave face and trying to overcome their emotional being without actually acknowledging it.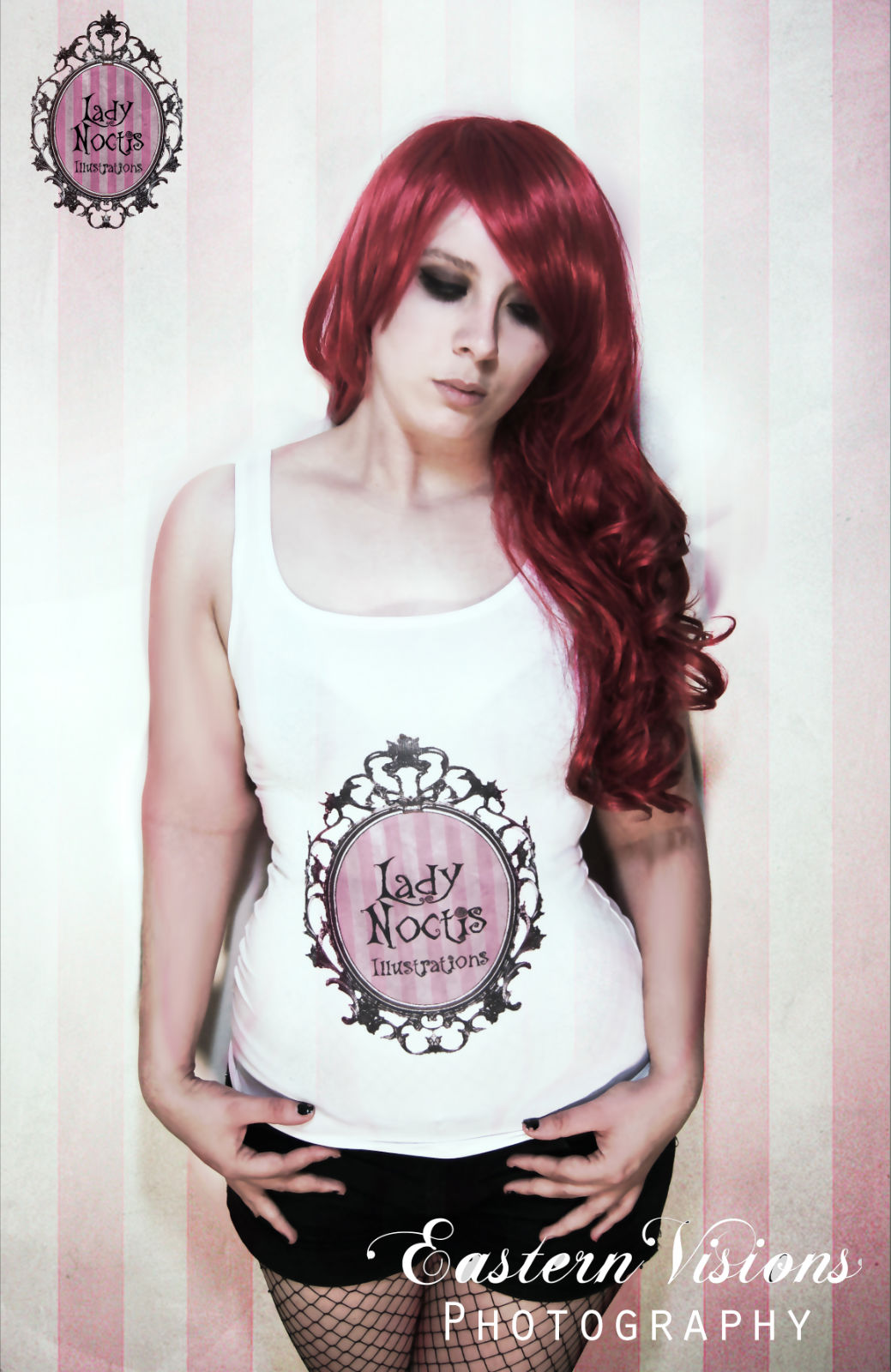 What up next for you, in terms of both concrete plans as well as future aspirations?
Well, I have recently relocated to Southampton so I am currently getting my life settled there and working on a new series of artworks. I am also in the process of organising a new exhibition of my works in Lincoln, as well as investigating into a possible exhibition in my new home town; so be sure to keep a look out for updates on my website.
In addition to all of this, I am also planning a range of jewellery which will feature my illustrations, a new book and t-shirts.
To stay up-to-date on all things related to Lady Noctis, go to her website: http://www.ladynoctis.co.uk/.
Photo Credits: Hollee McNamara Photography, Dress by Fetasia Latex; Eastern Visions Photography; Artwork by Lady Noctis; Eastern Visions Photography